___________________________________________________________________________________________
Ohio Vendor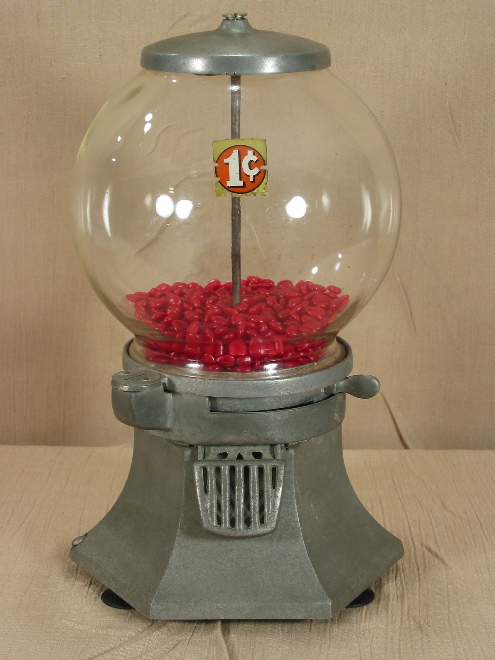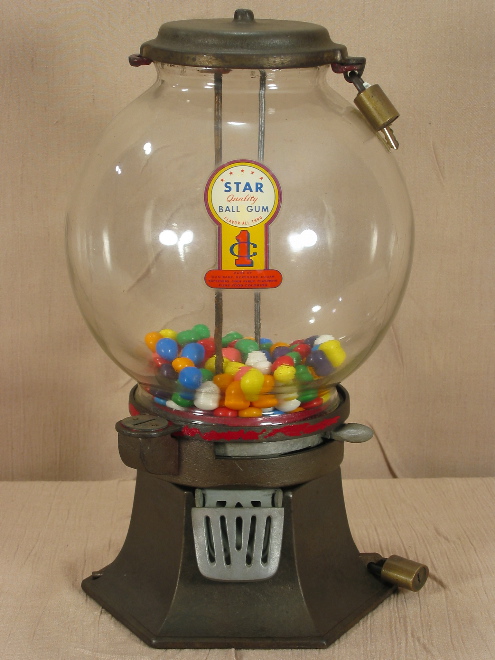 Ohio Vending Machine Co., Columbus, OH, c. 1930, 14" (left) and 14 1/2" (right). These are kissing cousins of Columbus, and for all I know they're Columbus in disguise. Columbus, Simpson, Ad-Lee, Ohio Vending Machine Co., and probably some others I can't think of right now seemed to be a pretty incestuous bunch. I think this was a separate company from Columbus, but I'd bet there's a close relationship there somewhere.
Pictured above are 2 versions of the Ohio Vendor:
The machine on the left is an aluminum version designed for bulk product. This is the Model 1, which denotes a bulk that I've seen only in aluminum. Ohio Vendors aren't rare but they also aren't easy to find, so I've been surprised at the number of variations I've seen of the Model 1. The differences exist in the lid, the hold-down rods, and the shape of the base, and I've not noticed any pattern to how variations are grouped. The lid can be as shown above or can be a typical Columbus Model M-type lid that needs to be locked from one side. I've seen versions with one hold-down rod (through the center, as pictured above left), 2 rods (on the side, as on the cast iron Ohio Vendor above right), and if memory serves me correctly, even 3 rods (center and sides, just to be sure). The base can be as shown above left or can have a more acute flare like the one on the right. In addition to differences in shapes and designs, I used to own one that had a textured surface, almost pebbled, which was obviously original and was obviously produced by the casting. It may sound like I've seen a lot of Ohio Vendors, but I haven't; it just seems as though each one is different from the others.

Most don't have decals; the one pictured above left has half an original decal, with the bottom half now missing. All of the aluminum versions I've seen have had the "vertical bar" gate shown on the machine above.

The machine on the right is a cast iron version designed for gumballs. This is the Model 2. I've seen fewer cast iron examples than aluminum examples, and those I've seen have been similar, without the variations I've seen on the aluminum version. They've all had the style of lid and base shown above, and all have had 2 hold-down rods. In fact, the cast iron version resembles its kissin' cousin the Columbus Model M, although I don't think parts are interchangable. All of the cast iron examples have had the "tapered bar" gate shown above.
Ohio Vendors are designed well, work well, and are scarce enough to be appreciated by most collectors. The aluminum machine pictured above is 100% original. The cast iron version is 100% original except for the decal and baseplate. The baseplate on this is an old one that I believe was made or commissioned by the vendor. It's extremely well made and in my opinion not only doesn't detract, but in some ways enhances the machine. I'm always impressed when I come across a repair or replacement like this, which obviously took time and a conscientious craftsman to create. That feature personalizes the machine and in some cases makes it more desirable to me than an all-original machine might be.

___________________________________________________________________________________________

___________________________________________________________________________________________

©Small Vintage Vending 2016