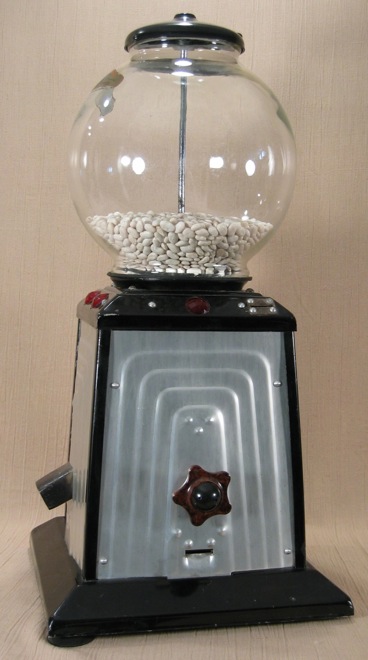 Bluebird Products Co., Kansas City, MO, c. 1925, 22". This was an ebay buy in the fall of 2011. I'd seen the Pamco pictured in Silent Salesmen Too, page 28 if you're curious, but had never seen one live. I bought it, got it a week later, and when I started unpacking it I realized that this is a much larger machine than I'd expected. After I'd assembled it I set it on the kitchen island. and shortly after that my wife walked in and said, "What is that; it's huge!" She exaggerated, of course---it's not huge, Hummers are huge!---but it's pretty big for a single globe vendor. You can see that for yourself here.
According to Silent Salesmen Too, Pamco was a sales arm for Bluebird. It must have been a small arm, because I've seen many more Bluebirds promoted by Bluebird than I've seen promoted by Pamco. I'd never guess that Bluebird made this if Mr. Enes hadn't told me. It's got a Bluebird-slash-Columbus globe, and the lid and hold-down ring are textbook Bluebird, but that's it. Most other aspects are unique to Bluebird. According to Silent Salesmen Too, nuts were heated by a light bulb in the base, which also lit up the red circular glass inserts arrayed along the top of the base. Silent Salesmen Too states that this is made of sheet metal, but that's incorrect; it's all aluminum. The knob is bakelite, which is a neat feature.
This example is 100% original and is in outstanding condition.
___________________________________________________________________________________________
___________________________________________________________________________________________
©Small Vintage Vending 2013