___________________________________________________________________________________________
Pansy Gum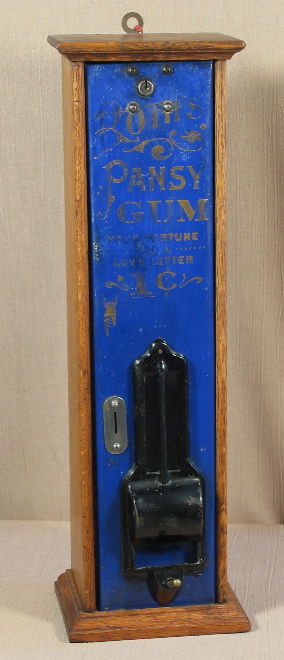 Roth's Pansy Gum, c. 1905, 21". There's not much to tell about this one. It's a metal plate onto the back of which is attached a mechanism, and all of that fits into a wood box. But ain't it purty?
This machine is considered rare, and is one of at least 2 variations. The other one I know of is pictured on page 134 of Silent Salesmen Too and is the same as the version pictured above except that the wood box has some patterned trim on the front top and bottom edges.
It took me a while to appreciate this particular machine. When I bought it, the wood box had been coated with polyurethane and didn't look right. I lived with it that way for a couple of years, and then offered it to a guy who was looking to buy blue machines. He declined at the price, which was less than half what the machine is worth today. I was relieved that he declined, which told me that I shouldn't have offered it in the first place. Before I did something so foolish again, I gently removed the polyurethane and then mineral-oiled the bare wood, and what resulted was a vast improvement over what I'd had before. All thoughts of parting with it vanished, although I did eventually sell it to help defray tuition costs.
The front plate looks much more garish in the picture above than it does live. The picture doesn't do the machine justice, but I'll have to live with it since I no longer own it.
The example above is 100% original except for any residual mineral oil. That would be new.
___________________________________________________________________________________________
___________________________________________________________________________________________
©Small Vintage Vending 2009