___________________________________________________________________________________________
Penny Carnival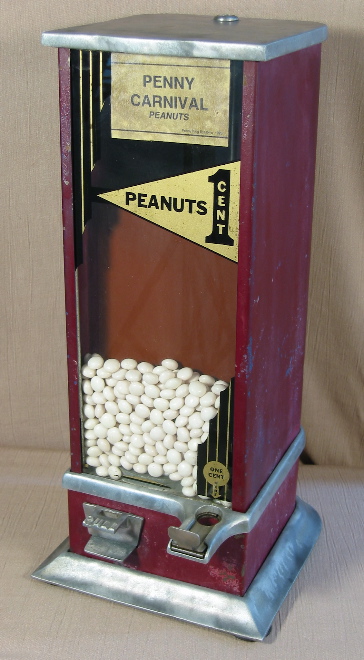 1930's, 20". Bill didn't seem to know much about this model's origin. He mentions no manufacturer, date, or even height. I can tell the approximate date from the style, and I can tell the height from my tape measure, but I don't have a clue where it was made.
This model is not rare, but I've seen fewer than a half dozen in 12 years. I think they're underappreciated, but what do I know? The one pictured in Silent Salesmen Too is the only one I've seen that's tiger-striped on the body and has the gambling decal pictured on that machine. The others have been painted and have had pennant decals like the one pictured above. The body is sheet metal and the parts you see that look like aluminum are aluminum. The machine is not anvil-heavy, but it has good heft.
The slide mechanism delivers a vendful of goodies to a drawer that you can see on the lower left front, but the customer has to pull the drawer out to deliver them to his or her hand. That drawer is spring-loaded, so pops back into place once you release it.
The example pictured above is 100% original except for maybe the "Penny Carnival" decal. That may be original as well, but it looks like a Ken Rounds special to me.
___________________________________________________________________________________________
___________________________________________________________________________________________
©Small Vintage Vending 2003-2009