___________________________________________________________________________________________
Petite Vender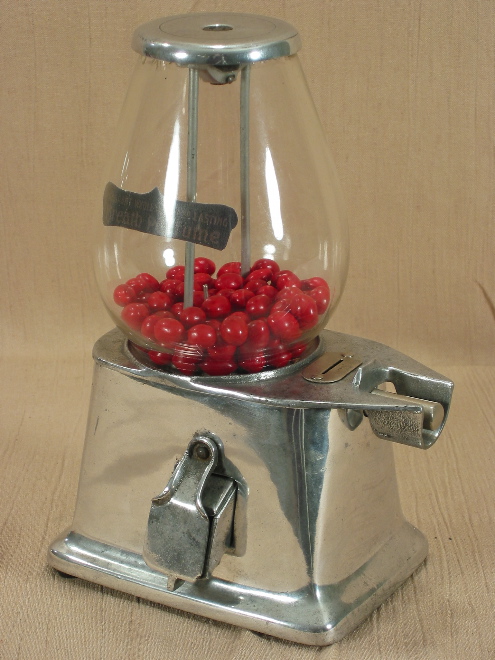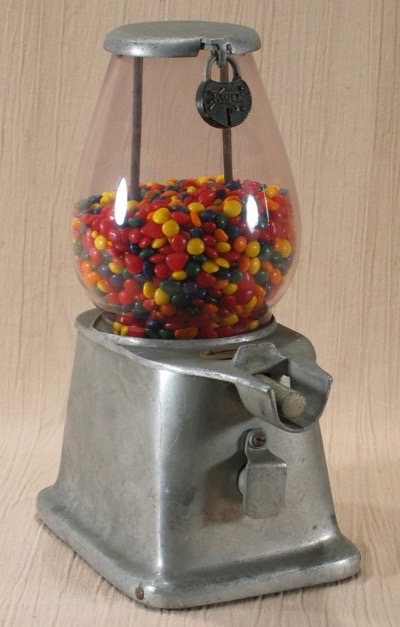 Specialty Coin Machine Builders, c. 1934, 10 1/2". The Petite Vender is a small machine that came in several versions. Silent Salesmen Too (page 177) describes this model adequately, so I'll not repeat here what it says there. This is a desirable model, and there seems to be more collectors who want one than there are machines to spread among them.
The machine pictured above left is a "Petite Peanut Vender," and is designed to vend peanuts or appropriately-sized candy. The machine pictured above right is a "Petite Vender," which is a breath pellet machine with many similarities to---and a few differences from---the peanut version. Chief among the differences are the size and position of the exit chute and gate, the method of securing the lid to the machine, and the size of the 'pocket' that vends the product---you can't see it in the pictures above, but it's much smaller for the breath pellet version. Bill Enes gave these models different monikers in Silent Salesmen Too, but most collectors don't call them by those names, they're both just "Petite Venders." If you tell someone you bought a Petite Vender, he'll ask what version, he won't say "oh, wow, did you get a Petite Vender or a Petite Peanut Vender?"
The examples pictured above are 100% original except for the decal on the left machine. That one was part of a collection I bought from a friend when he decided to cash out, and at the time this wasn't near the top of the list of his machines that made my heart flutter. It was okay, and I figured I'd keep it for awhile and then sell it after I'd sold others that duplicated machines I already had. So in this came, up it went onto a shelf, and there it sat while I figured out what to keep and what to sell. While I was doing that I came to appreciate it more and more. After I came to really like it, I bought the one on the right from a friend in the parking lot of the November 2013 Chicagoland show. A year or 2 later I sold the shiny one to help defray tuition expenses, figuring I could live without it because it is so shiny. I now kinda miss having both versions, and hopefully I can rectify that someday.
___________________________________________________________________________________________
___________________________________________________________________________________________
©Small Vintage Vending 2015