___________________________________________________________________________________________
Price Collar Button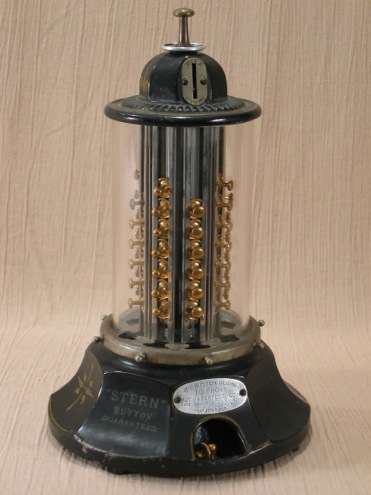 Price Collar Button Machine Co., Attleboro, MA, c. 1905, 9 3/4" without marquee. This is a neat little cast iron machine that sells various collar buttons, a fashion staple of the early 1900's. I'd had a Zeno collar button machine for several years before I found this, but I've always liked the look of this model and had wanted one. They're not rare but they're not easy to find, and it took me several years to find a nice one reasonably priced.
Stamped into the plate on front is the following:
TURN BUTTON DESIRED
TO FRONT
PUT IN PERFECT COIN
PRICE COLLAR BUTTON MACH. CO.
ATTLEBORO, MASS.
PAT. APPL'D FOR.
Note that only perfect coins are guaranteed to work.
Stenciled onto the sides of the cast iron base is "STERN" BUTTON GUARANTEED. I found it interesting that the Price collar button machine sells Stern buttons. At first I thought this was a variation on the Price, but Silent Salesmen Too mentions this in its description of the Price, so it must be the norm. The entire center section rotates, including the globe and the knobbed ring on which it sits, and I assume that various styles of collar buttons filled different columns. When you push your coin through a bell dings and the collar button falls to the slot at the bottom. It came in a nickel version (Price No. 1) and a dime version (Price No. 2); this one's a nickel version. I don't know if the dime version sold better buttons, or was placed in swankier locales, or was made later after rampant inflation had doubled the price of a simple collar button.
The example pictured above is 100% original and has very good stenciling except for the faded "Stern" logo on the (unseen) right side. The example shown in Silent Salesmen Too has a marquee sign; this has a collar button "marquee" that screws into the top. I've seen at least one other Price that has this, and have no doubt that it's correct.
___________________________________________________________________________________________
___________________________________________________________________________________________
©Small Vintage Vending 2013