___________________________________________________________________________________________
Pulver "Hi Hi" Bubble Gum Vendor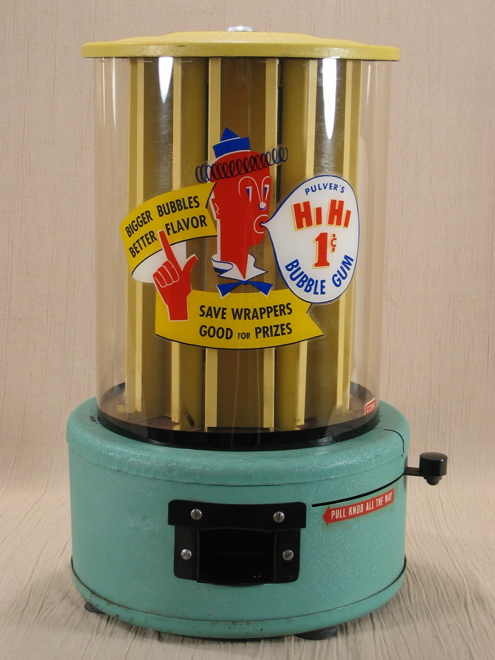 Pulver Company, Inc., Rochester, NY, c. early 1950's, 15 1/4". Silent Salesmen Too says this model was Pulver's last, and that they'd sold only 300 when they went out of business in 1954. The base and lid are made of wrinkle-painted sheet metal, and the globe is plastic. I bought this example from a collector who said he has one just like it except the globe is glass, and when another collector heard this he said that Pulver shipped a few with glass but switched to plastic because of problems with breakage during shipping. I've seen or heard of only a handful of these machines over the years, and had never heard of a glass globe until this guy's.
My opinion of this model changed over the years. I saw my first one---or maybe it was my second---at the Chicagoland show in the late 1990's. It was placed about head-high on a shelf. My friend Dave pointed it out or I'd have probably passed right by it. It did nothing for me. It was priced well for a hard-to-find Pulver, but surprisingly it was still there when I left town the next day. On Sunday Dave negotiated an even lower, "the show's over, you wanna sell it or not?" price and took it home with him.
A couple of years later I was at Dave's house and saw the machine again, and was immediately smitten. It was on a small low end table, by itself, and it looked better than I'd remembered. I told Dave I was interested and to let me know if he ever wanted to sell it, but he never did. I kept my eyes open over the years, and when I saw this one I didn't waste much time deciding.
This example is 100% original and is nearly flawless. I don't know how many of these still exist, but I do know that I've seen only 3 or 4 over the past 20 years.
___________________________________________________________________________________________
___________________________________________________________________________________________
©Small Vintage Vending 2003