___________________________________________________________________________________________
Pulver Self-Service Vendor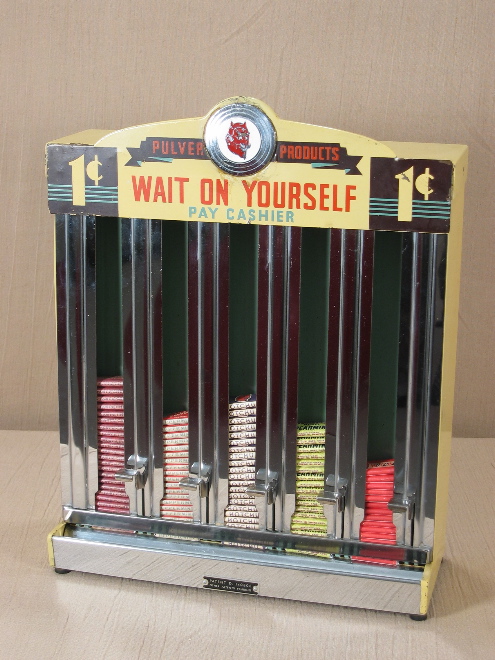 Pulver Co., Inc., Rochester, NY, c. late 1940's or early 1950's, 14 3/4". The date is a guess, but I doubt that it's off by much if any. Pulver ceased business in 1954 and I doubt this machine was made pre-WWII, so it must have been made between 1945 and 1954.
This isn't technically a coin-operated piece, but it's a Pulver so it falls into the Coin-Op Domain. It's a 5-column dispenser that released one tab of gum when the customer pushed the lever at the bottom of a column. The lever pull also rang a bell inside the machine, which presumably alerted the clerk that money was due.
These are attractive machines, with (in my opinion) the devil's head adding some nice graphical interest to the machine. This example is 100% original except for some minor touch-up to the yellow paint. The chrome on this example is nearly flawless.
___________________________________________________________________________________________
___________________________________________________________________________________________
©Small Vintage Vending 2003-2009