___________________________________________________________________________________________
Puritan Cup Vendor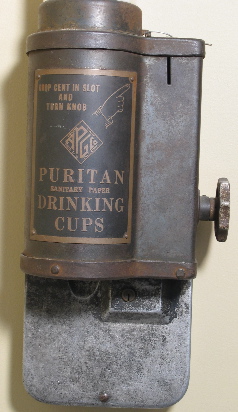 APG Co. 34". I don't know the date of this, but it strikes me as 1920's. It was made by APC Co. especially for "Puritan Sanitary Paper Drinking Cups," so like the coin-operated Dixie Cup dispenser, this was made expressly for a certain brand of cup. This is made of painted steel.
From a distance it may look like a Dixie cup dispenser, but its mechanism is completely different. This machine uses a short vertical "tunnel" with an internal trigger release to drop a cup straight downward when the knob on the side is turned. The entire bottom section is a removable coin box; without it the machine works just fine, except that your money drops to the ground as you're vending the cup. From the operator's viewpoint, I guess that's not working "just fine," is it?
This is not listed as rare, but this is the only one that I or several other experienced collectors have seen. If this isn't the one pictured in the book, then at least 2 exist.
This example is 100% original.
___________________________________________________________________________________________
___________________________________________________________________________________________
©Small Vintage Vending 2003-2009