___________________________________________________________________________________________
Radio Vender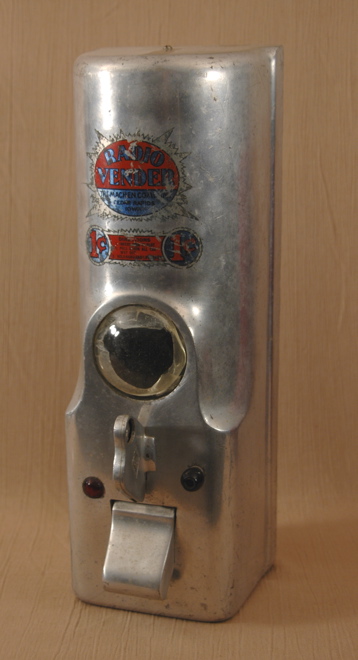 The Machen Co., Cedar Rapids, IA, c. 1930's, 18". Bill Enes reports the manufacturer of this machine as "Femachen Mfg." of Cedar Rapids, IA, but the decal on the machine above clearly says "The Machen Company" of the same city. Could Bill have misread his source? Maybe, or maybe the company changed names and both are right---it wouldn't be the first time a company changed its name.
I've always been attracted to this model, but I don't know why. There's nothing overtly special that makes the machine a "must have," but it has a lot of little things that work well together. It's an aluminum machine with a nonstandard shape. It's not the square boxy machine often found in the 1940's and 50's, but it's not an overly ornate piece from the very early 1900's. It's in-between, having nice curves without being overly fancy---like a cute midwestern small-town girl compared to a gussied-up east coast big-city girl who wears too much make up and perfume. It's also one of only 3 models I know of with a pull chain that dispenses product, the other 2 being the Neko and the Shipman/Western.
I've not been able to figure out a couple of things about this model:
According to Silent Salesmen Too it came in 2 versions; a wall-mount version, and a countertop version with a cast iron base attached to the bottom of the machine, which allowed it to set on a flat surface. I question this, though, based on 2 Radio Venders that I've owned, neither of which had the cast iron "counter top" base. They were presumably wall-mount versions since they lacked the base, but both had the lock in the back of the machine where it would be inaccessible if the machine were mounted to the wall. The couple of holes molded into the cast iron back of the Radio Vender would allow the machine to simply hang on the wall, but it wouldn't be securely attached to the wall. That wouldn't do much good for a machine designed to dispense products by pulling a chain away from the wall on which the machine was hanging. A wall-mount version would need the lock in front, and neither of my purported wall-mount versions have had that.

Silent Salesmen Too describes this as a "hot nut machine," and the red glass to the left of the coin entry and gate supports this contention. However, I've never seen a Radio Vender with a cord attached, and I've seen more than 2 or 3. Is this really a hot nut machine or not? I don't know.
The example above is 100% original and has a different coin entry than do most other Radio Venders. It's the same coin entry seen on some Simpsons, such as the Derby Confection Vendor, and on some non-Simpson vendors such as the Log Cabin Duplex, but to the best of my recollection I've never seen one on a Radio Vendor. As far as I can tell it's original to the machine. The perimeter of the window is opaque because it's broken around the edge, but the break is evenly distributed around that perimeter and it's always preplexed me how that could've happened.

___________________________________________________________________________________________

___________________________________________________________________________________________

©Small Vintage Vending 2003