___________________________________________________________________________________________
Robbins 2-in-1 Vendor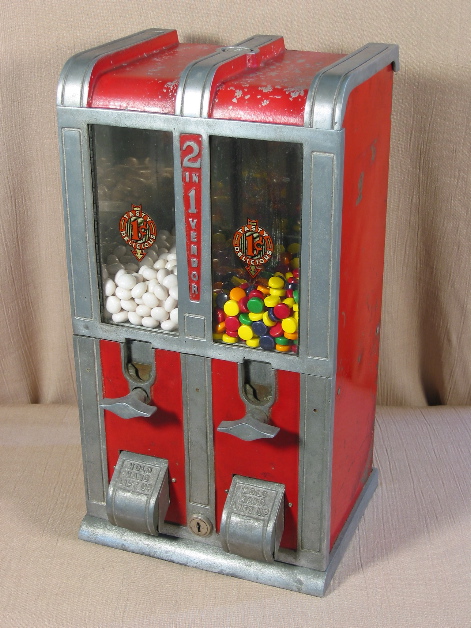 D. Robbins Co., Brooklyn, NY, c. 1935, 16 1/2". This is a 2-compartment art deco machine from the heyday of art deco. I'm not overly fond of multi-compartment vendors, but I like this one a lot. As anal as I am about originality, I have to admit that this is one of the few machines that sometimes looks better restored than it does original. I'd rather have an original example than a stunning restoration, but I may be one of the few who would.
This appears to be made of sheet metal and aluminum, with the sides and back being sheet metal and the lid being cast aluminum. All of the silver-gray trim you see above is aluminum. I'm impressed by the attention to detail paid to the design and paint scheme of this machine. Making the whole body one color would detract from its appeal but it would have been cheaper and easier to do it that way.
This model is not rare, but I've not seen many examples. A later version is similar but has several differences that distinguish it from the earlier one pictured above. You can see a picture of that version in Silent Salesmen Too, page 134. Both versions look good, but I'll give the nod to the earlier one.
The example pictured above is 100% original.
___________________________________________________________________________________________
___________________________________________________________________________________________
©Small Vintage Vending 2003-2009