___________________________________________________________________________________________
S.A.F.D.A.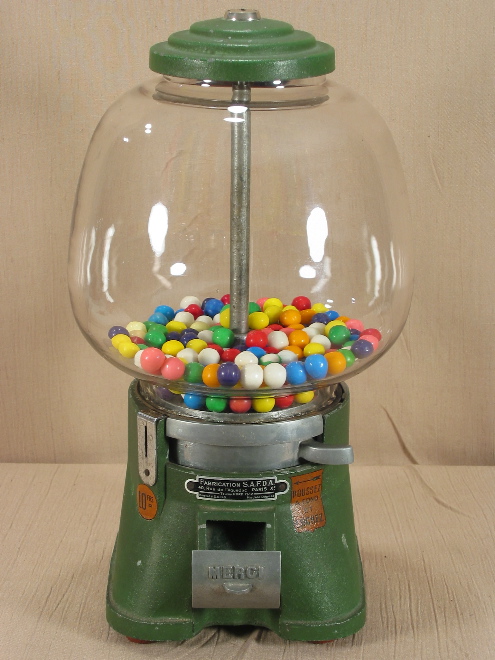 France, c. probably 1930s, 16 1/2". This is not listed in Silent Salesmen Too, and I know very little about it. It's an aluminum vendor that feels like cast iron because it has by far the thickest cast iron baseplate I've ever seen. It's flat, at least 1/2" thick, and weighs about as much as the rest of the machine without the baseplate. If it's intended to be bottom-heavy, the designer met his intent.
The design is conventional; put a 10 franc coin in, pull the lever, and the vending wheel dumps product into the chute. In spite of the conventional design I like the look; the paint, body decals, metal tag, and open gate give it a slightly different look from most domestic machines of the same style.
The American I bought this from is moderately knowledgable about foreign machines and has shown this to several European collectors. They've all said they've not seen another one like it, but none of these European collectors specialized in vending. So, while I'm not prepared to call this officially 'rare,' it appears to be uncommon at the least.
This example is 100% original.
___________________________________________________________________________________________
___________________________________________________________________________________________
©Small Vintage Vending 2003-2009