___________________________________________________________________________________________
Safety Match Vending Co. Match Vendor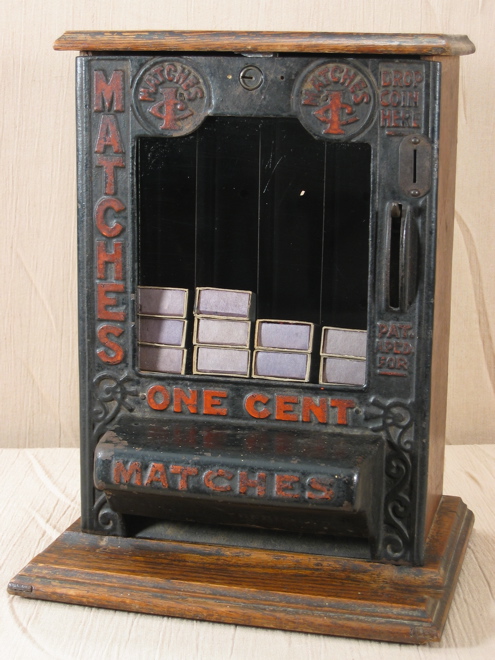 Safety Match Vending Co., c. 1909, 14". I consider this to be the first in a series of 3 vendors that are similar in heritage, style, and construction but---according to Silent Salesmen Too---differ in patent dates and manufacturers. The other two in the series are the Samuel Cupples match vendor and the Specialty Model D. According to Silent Salesmen Too, the heritage starts with John Krcma, who used "Krema" in his company's name since no one could pronounce his real name. Smart move, I say. Silent Salesmen Too also says that "Krema Mfg. Co. private labeled this wood vendor with a highly embossed cast-iron front for the Safety Match Vending Co." So was Safety Match Vending Co. the manufacturer, or was it the Krema Mfg. Co., and who really made the other two models in the series? I've quit trying to figure it out; it seems that Krema had his hands in several of these companies, and the borders between these companies are pretty blurry to me.
Of the 3 vendors in the series, this is the oldest and most ornate. The patent date is listed as 1909. The Samuel Cupples version came a year later and is not quite as ornate. Five years after that came the Specialty Model D vendor, which is the plainest and most readily available of the three. All 3 vendors were solidly-built 4-column vendors that sold standard-sized boxes of safety matches. Silent Salesmen Too contains pretty thorough descriptions of these machines on page 245, so I'll not be redundant by repeating them here.
The entire front plate of this model is cast iron and comes off as a single unit. The mechanism is contained within, or attached to the back of, this plate. The cast iron front plate gives this machine considerable heft. The last model in the series, the Specialty Model D, is a bit front-heavy, but for some reason this model doesn't have the problem. The base extends further to the front on this model than on the Specialty Model D, and that may be the difference. If so, then the manufacturer went backwards on this design feature, not forward.
The example pictured above is 100% original.
___________________________________________________________________________________________
___________________________________________________________________________________________
©Small Vintage Vending 2003-2009