___________________________________________________________________________________________
Scoopy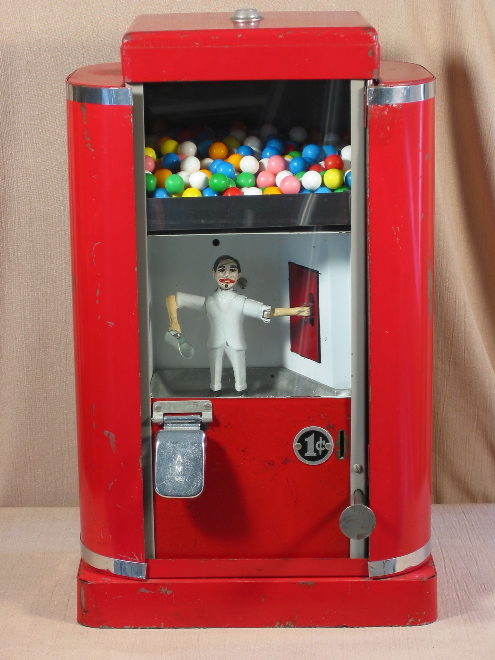 Scoopy Mfg. Co., c. 1950's, 19". This is one of several animated machines made by the Scoopy Mfg. Co. and/or the Harris Gaylord Mfg. Co. According to Silent Salesmen Too, these 2 companies were in business simultaneously from 1949 to 1955 and therefore it's hard to tell exactly which company made which machine. According to the same source, if the machine has "A M Co." on the chute cover it was made by the Scoopy Mfg. Co. This one does, so it was.
This was covered by the same patent that covered the Manikin Vendor, and on the surface you can see that the internal architecture is nearly identical between the two. Neither one uses a permanently wound spring, but instead uses the energy imparted by the customer to wind the clockwork mechanism enough for one play. On the Scoopy, you insert a penny and push the rod, after which the baker pivots to his left, opens the oven door, allows a gumball to drop into his scoop, and then pivots back to the right and drops the gumball into the trough. Some other Scoopy models use a turn handle to energize the automaton, but the push rod has always seemed a more elegant way to accomplish the task.
The example pictured above is 100% original and is in excellent condition. I was lucky to get it. It sat without selling through the Fall 1998 and Spring 1999 sessions of the Pasadena Coin-op Supershow. The machine was brought by a slot machine collector who'd taken it in trade, and it was set up on a table rented by members of the local slot machine collectors club. I was interested in the machine but had some questions, and everytime I asked where the seller was he was "here somewhere" but never actually at the table.
Well, the machine went home with the seller after both shows. About a month after the second show I began to think about it more, and tracked down the seller through a friend. I called him and found that he didn't live far from where I worked, so we made an appointment and the next day I drove up to his house during lunch. I inspected the machine closely, asked him my questions, and liked the answers. I'd gone prepared, so I gave him my money and loaded the Scoopy into the passenger seat.
Even as I was buying the machine I couldn't figure out how this machine could sit through 2 Pasadena shows without selling, even though show attendance had declined substantially by then. Moreover, I couldn't figure out how I couldn't have been more motivated. In this case my procrastination didn't hurt me, but it's one of the few times it hasn't.
___________________________________________________________________________________________
___________________________________________________________________________________________
©Small Vintage Vending 2003-2009