___________________________________________________________________________________________
Shorts Chewing Gum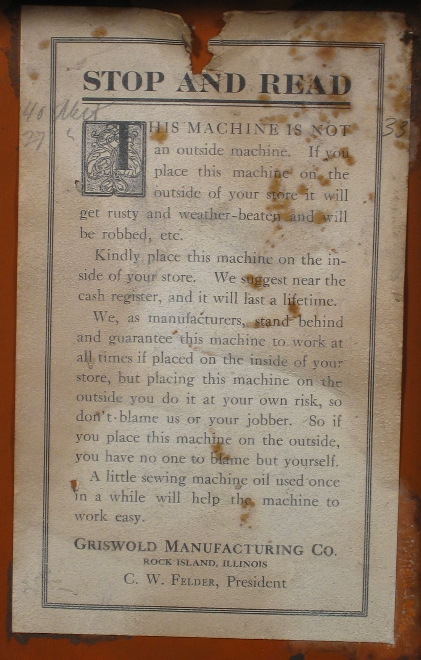 Griswold Mfg Co., Rock Island, IL, c. 1920's, 28". You wouldn't look at this machine and think it was made by the same folks who made the tall-globe cast iron peanut vendors, but it was. It's a tall, 2-column, sheet metal wall-mounted machine with a neat mirror and graphics. Almost all of the examples I've seen were in the same general condition as the one pictured above, with a good overall look but a bit worn. The one pictured in the book, which I saw live at a Las Vegas auction in 2002, is the nicest I've ever seen. As it turned out, it was also the most expensive.
One neat feature of this model is the advice Griswold gave to owners of the machine. The advice is pasted to the inside of the machine and is pictured above for your reading pleasure. Think they got their point across?
The example pictured above is 100% original. I no longer own it.
___________________________________________________________________________________________
___________________________________________________________________________________________
©Small Vintage Vending 2009