___________________________________________________________________________________________
Simpson Pen-Nick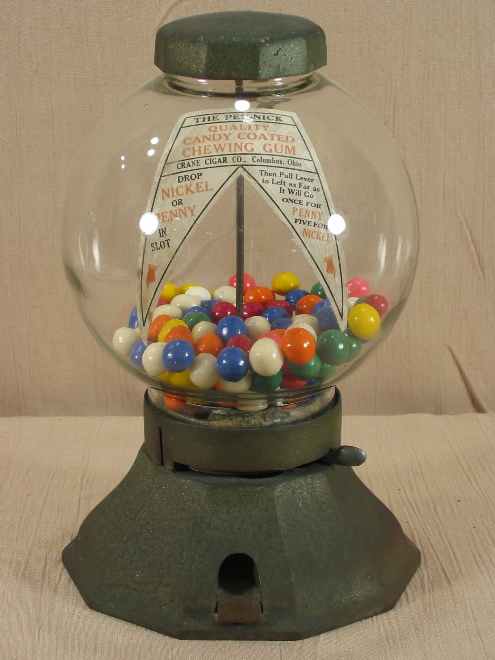 R. D. Simpson Co., Columbus, OH, c. 1923, 13 1/2". Made of nickel-plated cast iron, this is one of several Simpson models with the same body but different mechanisms. Others include the Simpson 1-2-3 and others that gave one gumball or two gumballs for each penny. The secret to the nickel option on this model lies in the mechanism, not the vending wheel, so you need to pull the handle 5 times after you insert a nickel, and each pull rewards you with one gumball.
The example above is 100% original. The nickel finish has tarnished to a flat, dark gray that gives this an awesome old look and differentiates it from "cleaner" examples of this model. This machine was part of a collection that I bought from a friend, and I still remember the first time I saw it, cradled in his arms at a late 1990's Chicagoland show, when he stopped to show me his "find" in the parking lot. Man, it was love at first sight! I was happy for him then, but I'm happy for me now that it's mine.
Quick side story: I once bought two Simpson 1-2-3's that looked like the Pen-Nick above, and I cleaned them both. I'm ashamed to admit it, but I hadn't been collecting long and I just didn't get it yet. Thankfully, I learned my lesson before getting the Pen-Nick. I've never completely forgiven myself for degrading those 1-2-3's---one of which I still own---but I take some solace in knowing I didn't make the same mistake twice.
Many thanks to Shawn Flock for his critical review and content suggestions.
___________________________________________________________________________________________
___________________________________________________________________________________________
©Small Vintage Vending 2003