___________________________________________________________________________________________
Standard Automat Chocolade (Danish)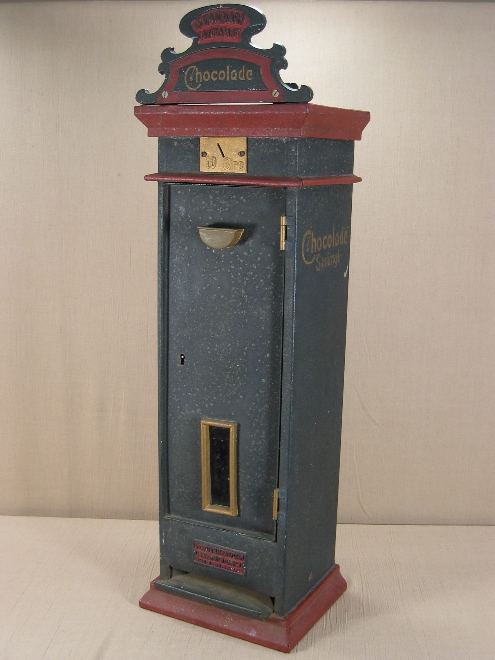 Maker unknown, Denmark, c. late 1800's or early 1900's, 32" including marquee. This is another one of those machines that I own but know very little about. It's made of sheet metal and is painted with black and red wrinkle paint. I got it at the Victorian Casino Antiques auction in the Fall of 2005, where it was listed as a late 1800's Danish chocolate vendor, very rare (of course) and very collectible (of course). I was on a foreign-machine kick at the time and was smitten at first sight, and placed an absentee bid that took it. After getting it and looking it over, I'd guess that the date VCA assigned to it isn't far off if it's off at all. My gut feeling is that this is pre-1910 and could very well be pre-1900, although that's just a gut feeling and I have no objective reason for it other than the simplicity of the mechanism's design.
The mechanism is unlike any I've seen before. After you put a coin into the slot in the top front, it travels in a straight line down, back, and toward the right in a chute that turns straight down once it reaches the back right side of the interior. In the middle of this vertical run down the back right side of the machine is a thin rod that's connected to the mechanism on the left side of the machine. This rod acts as a tripwire. When the coin passes through this part of the chute it knocks the rod downward, and this motion is transferred through the rod and trips the mechanism on the other side of the machine. Inside the single column is a stack of (I presume) Chocolade, and something---perhaps the weight of the product or perhaps the mass of some weights that are now missing---allows a goody to be released. As far as I can tell the mechanism needs no winding or "loading," and it's apparent from the outside that the customer doesn't have to do anything except stick the coin in and then pick up the goody that's dispensed. It looks that the energy needed to dispense the product is provided by gravity, and if so then it don't get much simpler than that.
As far as I can tell this example is 100% original, including the paint and the red inpainting. The "dish" under the coin slot is the exit for a funnel-type structure that rests immediately below the inside of the coin slot. This looks to be a coin return, although I can't think of why a coin would be returned instead of being pulled down the ramp. I'm probably missing a nuance of the operation, but if I figure out what it is I'll update this page.
___________________________________________________________________________________________
___________________________________________________________________________________________
©Small Vintage Vending 2003-2009