___________________________________________________________________________________________
Stollwerck L-Vendor (oak)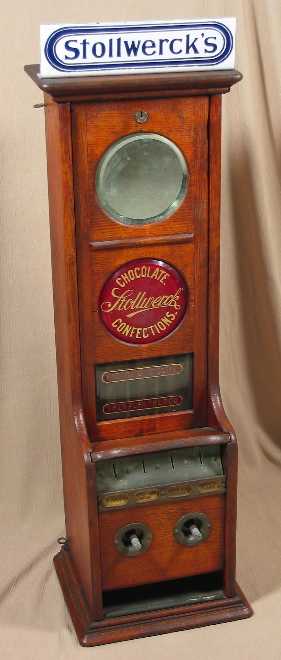 Stollwerck, c. 1892, 32 1/4" (with marquee). This is a 2-column oak L-vendor made by Stollwerck. It's designed in the same style as some other Stollwerck vendors, including one with porcelain panels that looks nearly identical except for the surface materials.
This model is pictured in Silent Salesmen Too, page 156. The one pictured there has two ruby glass signs instead of a mirror and a sign. The mirror at the top of this is original, though, which indicates that these differences were factory variations. Most examples of this model don't have a marquee, and I've heard tell of original marquees that were white-on-blue instead of the blue-on-white pictured above. I've also heard that the marquee has been reproduced.
The example pictured above is 100% original. I bought it at an auction in Las Vegas in April 2002, and was the only thing I bought at that auction. I wasn't disappointed, though; this one machine made it worth the trip.
A sticker on the machine said that this was the machine pictured in Coin Machines by Richard M. Bueschel. I don't have that book so haven't compared, but the source of the tag was reputable so I don't doubt that it's true.
___________________________________________________________________________________________
___________________________________________________________________________________________
©Small Vintage Vending 2003-2009