___________________________________________________________________________________________
Sussigkeiten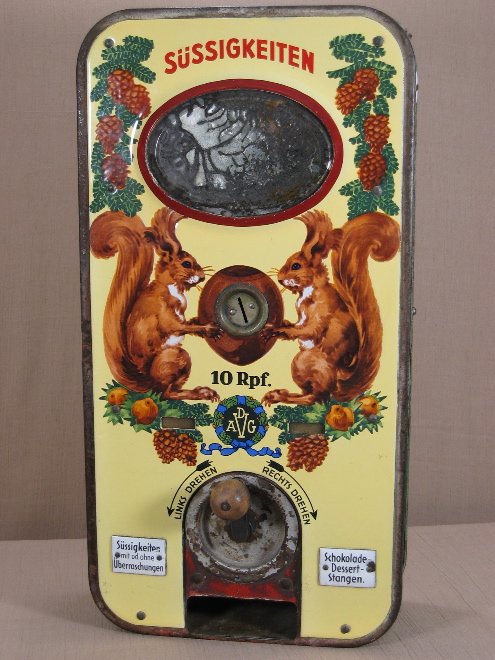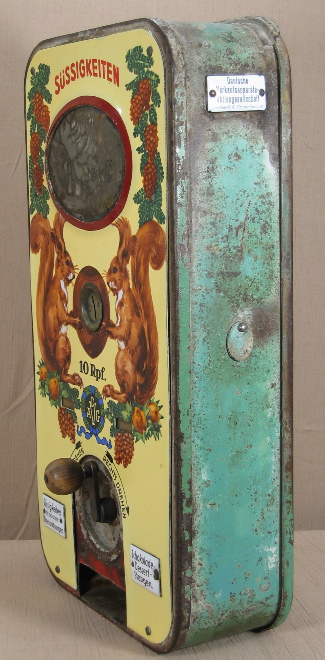 Germany or Austria, c. probably 1910's through 1920's, 21 3/4". I don't know who made this or when it was made. I suspect it was made in the 1920's or earlier because it's so solidly built, with a solid porcelain front, steel sides, and a wood handle on the front crank. The tags are also porcelain, which I wouldn't expect from a post-1920's machine. The oval glass is the remnant of a mirror; the beveled glass is in perfect condition but most of the silvering has peeled away.
It's a 2-column vendor, and the column of choice is activated by pushing the handle right or left after inserting the coin. Like that of a Zeno, the whole mechanism is housed in the case, with no part of the mechanism attached to the rear door. The case is hinged to the rear door, and the case and its innards swing 90o to the left once it's unlocked. The case actually swings more than 90o, but once the machine is installed there's probably a wall preventing it from going further.
I bought this at the Chicagoland show in 2004, and it was love at first sight. I'd never seen such artistic detail in a porcelain front. A machine like this is a good example of why American collectors shouldn't limit themselves to U.S. machines---you just won't find this kind of attention to visual detail in U.S. vendors.
This example is 100% original.
___________________________________________________________________________________________
___________________________________________________________________________________________
©Small Vintage Vending 2003-2009