___________________________________________________________________________________________
Twintex Condom Machine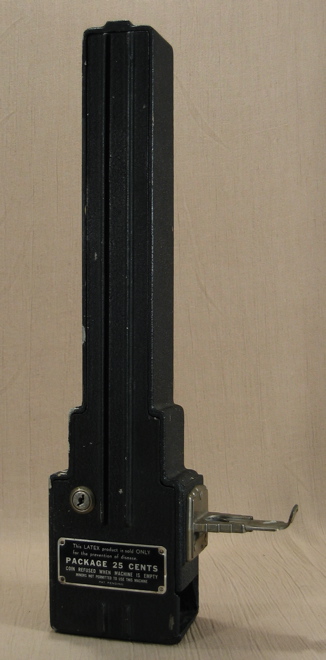 World Products Co., c. 1930s (I think), 19 1/4". I know so little about this model that I'm embarrassed to post it. It's a neat-looking art deco machine that sold one package of prophylactic devices for a mere quarter. A quarter in 1940 was almost $4 in 2009 money, so it wasn't cheap. Given the reward, though.......
This vendor is made of aluminum and is finished in a lovely and colorful black wrinkle paint. I never gave much thought to how common or uncommon this model is, but as I pondered buying this at the fall 2009 Chicagoland show, it dawned on me that I'd never really had the chance to buy one before, and I couldn't remember the last time I'd seen one anywhere other than ebay, years earlier. I don't think this is at all common, but it's not rare (except by ebay's definition, because neither of my next-door neighbors has one).
The machine pictured above is 100% original.
___________________________________________________________________________________________
___________________________________________________________________________________________
©Small Vintage Vending 2003-2009