___________________________________________________________________________________________
United States Stamp Vending Machine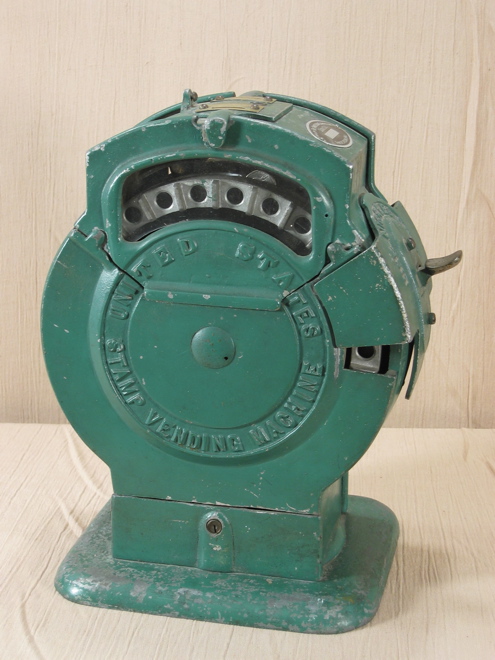 Anderson Die & Model Co., Anderson, IN, c. 1920's (est.), 13". This is a cool piece that was made just up the road from where I live. By "up the road" I mean a nearby city, not where the corner grocery now stands, but still---it's got a local connection.
According to Silent Salesmen Too this is a rare piece. This is only the third one I've seen since I started collecting, so I won't dispute that verdict. The first was in the late 1990's in the parking lot of the Chicagoland show. It was gorgeous; cast iron, nickel plating in good shape, as dense as a boat anchor---I was tempted, but at $900 the price seemed a bit steep and I passed. I don't know that the price was too steep---the dealer sold it to someone else shortly after I passed---but my interest didn't rise quite to that level. I'm not sure I made the right decision, but the opportunity's long gone so I don't dwell on it. The second example I saw is currently in a collection, and that one is also nickel-plated cast iron. This is the third. and it's different from the other two. This one's cast aluminum, painted green. I presume that an aluminum machine is later than a cast iron machine, so this was probably made later than the other two I've seen.
The operator had to hand-load each stamp individually, so it's not surprising that not too many survived. What's surprising is that the model lasted long enough to evolve to aluminum. I'd bet that any operator who refilled one of these more than once before he ordered more machines, didn't order more of these machines. Put a nickel in the slot, push the lever, and the wheel holding the stamps moved one stamp further along, after which the customer could pluck the stamp from the wheel through the opening.
The example above is 100% original.
___________________________________________________________________________________________
___________________________________________________________________________________________
©Small Vintage Vending 2003-2009