___________________________________________________________________________________________
Vendex Gumball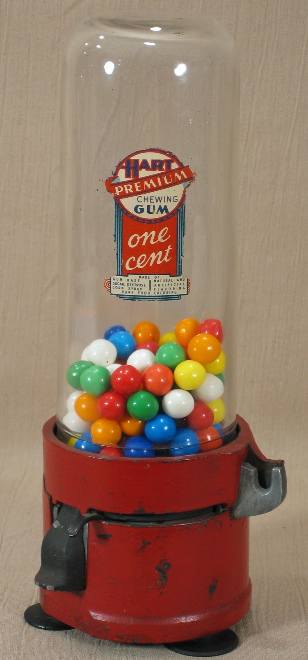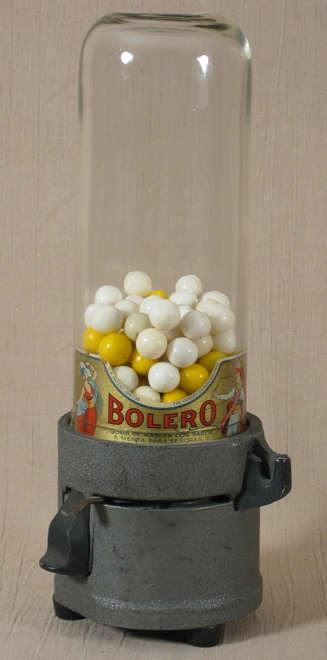 Vendex Co., Boston, MA, c. 1930's, 12 1/2". This model is similar to the Vendex Peanut, and in fact may be an identical model except for the shape of the product opening in the vending wheel. I'm skeptical that the differences between the examples pictured above and that pictured on the Vendex Peanut page represent distinctions between models, rather than variations across a single model that could vend candy, peanuts, or gum, depending on the vending wheel installed. See the Vendex Peanut page for more detail on this subject.
The examples above are 100% original except for the paint on the red machine, which is an ancient repaint by a vendor. I bought the red machine at the Indy Ad Show in 2004. I already had a nice Vendex Peanut at the time and questioned whether I really wanted 2 Vendex that looked so similar, but I really liked the look of this specific machine so bought it anyway. I'm glad I did; it's a great-looking machine and it complements the peanut machine nicely. The decal is not "right" for the machine, but it's been on that globe for a long, long time and that makes it "right" enough for me. For all I know it's the brand of gum the vendor used in the machine.
When I later bought the Bolero I rationalized that having 3 versions of such closely linked machines would be even cooler than having just two. I was right! The Bolero has a decal in Spanish and was undoubtedly made for somewhere south of the border. A modern machine with a Spanish decal may be used today at your local Lowe's or Walgreen's, but that wasn't the case 70 years ago. The Bolero is not rare, but it's a less common version of this machine, and works perfectly with an American penny.
___________________________________________________________________________________________
___________________________________________________________________________________________
©Small Vintage Vending 2003