___________________________________________________________________________________________
Victor Challenger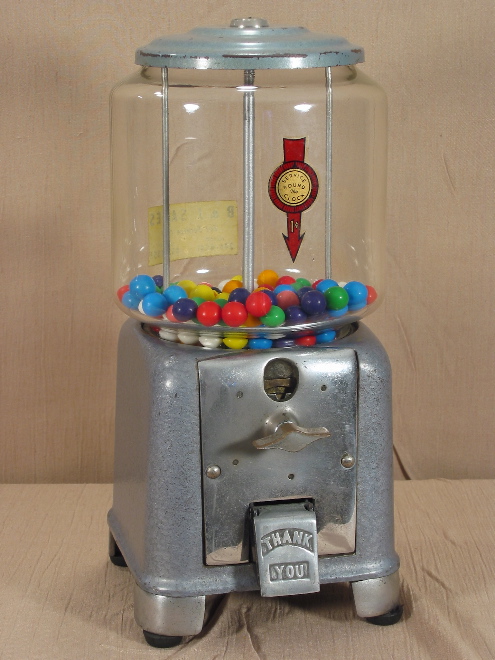 Victor Vending Corp., Chicago, IL, c. 1940, 15". The Challenger was the predecessor of the Victor V. It's a cast iron machine with a sheet metal lid and as far as I can tell is like the Victor V in every way but the baseplate. The baseplate on the Challenger is a flat, thick iron plate with a prominent extension at each corner to form stubby legs, while on the Victor V it's a thick plate that forms an apparent extension of the base itself and has rubber feet attached directly to the baseplate, not to stubby legs emanating from the baseplate.
For some time I've been surprised at how uncommon the Challenger is. It must have been very short-lived, although Silent Salesmen Too doesn't mention it. I can recall seeing a half dozen or fewer since I started collecting, and those were distributed amongst only 2 groups. The first was owned by one collector who had (if I remember correctly) 3 repainted examples, and the second was owned by a friend who found 2 nearly identical examples somewhere in Southern California. I bought one of the two my friend found, and that's the one pictured above. I don't recall seeing another one other than these, although I'm sure others exist.
The example pictured above is 100% original and is exactly as my friend found it except for the gumballs.
___________________________________________________________________________________________
___________________________________________________________________________________________
©Small Vintage Vending 2003-2009