___________________________________________________________________________________________
Victor Special Deluxe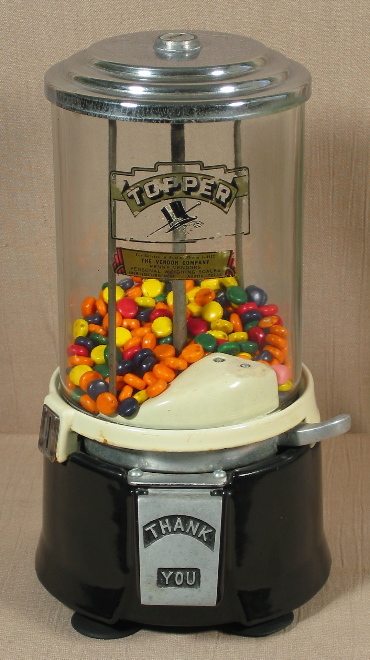 Victor Vending Corp., Chicago, IL, c. 1939, 12 1/2". Victor introduced at least 6 different models between 1937 and 1940, and this is one of them. Silent Salesmen Too describes this a "Victor's top of the line machine" and says that this was "a short-lived machine." It's a tough one to find; I've seen 6 or 8 in the past dozen years, and condition was usually less than stellar. This is the nicest one I've seen.
It's a solid, well-built machine. The body is porcelainized cast iron that---unlike that on most other vendors---is two-tone. The bottom is very dark, perhaps even black, while the midsection is tan. The lid is chrome-plated steel with a steep 3-tier design, although the example pictured in the book has the later style lid that's got a softer slope and is painted black. It's a heavier machine than it appears to be in the picture or live, and at 12 1/2" tall it's got a high heft factor.
The machine pictured above is exactly how I got it, with a globe and decal that I know to be right for a 1938 Victor Topper. However, the globe pictured on the machine in the book---and the globe I've seen on others that I don't think have passed through a collector's hands---is a cylindrical globe of wider diameter. Of the two styles, I like the straight cylinder pictured above better, but I doubt it's the style Victor put on the Special Deluxe before it left the factory.
The example pictured above is 100% original except for maybe the inpainting on the gate, and is correct except for probably the globe.
___________________________________________________________________________________________
___________________________________________________________________________________________
©Small Vintage Vending 2003-2009