___________________________________________________________________________________________
Victor Universal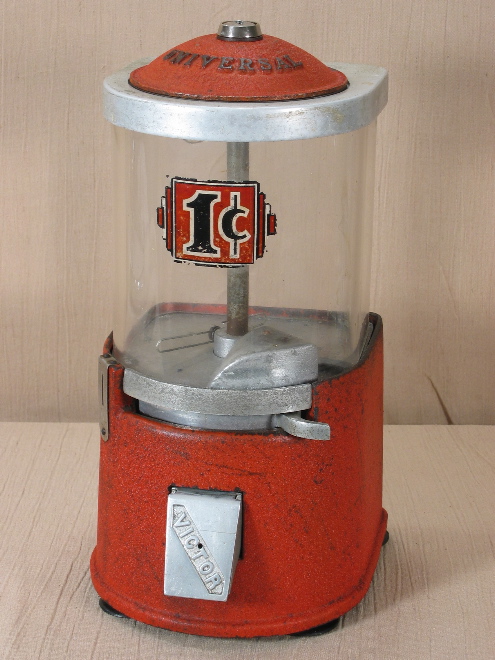 Victor Vending Corp., Chicago, IL, c. 1937, 14". According to Silent Salesmen Too this is Victor's first machine. Because of that I've always considered this an historically important model since it was the start of such a prolific and profitable line of vendors from that company.
This is a solid machine, made of heavy cast iron with a D-shaped globe. "UNIVERSAL" is embossed into the lid and Victor is stamped into the gate, although some Victor Universal's have blank gates. This model is not rare but it's not nearly as easy to find as are most other Victor models, and when found the globe is almost always broken. I don't know why that's such a common flaw with this model, but it is.
All of the original-finish Victor Universals I've seen were painted with orange or red crinkle-paint except for one, and that was finished in orange porcelain. I didn't inspect that machine closely enough to confirm that the porcelain was original, but it was purported to be. I suspect that it was, since Victor porcelainized some examples of some models. The 1930's were the heyday of porcelain finishes, so the timing of this model would be right for a porcelain finish.
The example pictured above is 100% original. I bought the machine as you see it, except with a broken globe and no gate, at an Ohio antique mall in 2002. I almost passed on it, but I'd always wanted one of these and the price was fair considering its condition. I kept the machine packed away for awhile, hoping to find a globe and gate but knowing the odds were against me. One day I visited another collector, and I'll be damned if he didn't have an unused Victor Universal globe sitting on a shelf in his workshop, looking lonely and calling my name. I bought it from him (thank you again), put it on the machine, and then awaited a gate. One day a year later 3 lots of assorted gates appeared on ebay, most of them common except for the Victor Universal gate you see above. Needless to say, I bought the lot, put the gate onto the body that held the intact globe I bought previously, and then put this on a shelf. It took 2 1/2 years to get it all together, but that's a shorter time that I thought might.
___________________________________________________________________________________________
___________________________________________________________________________________________
©Small Vintage Vending 2003-2009