___________________________________________________________________________________________
Whiting's Sculptoscope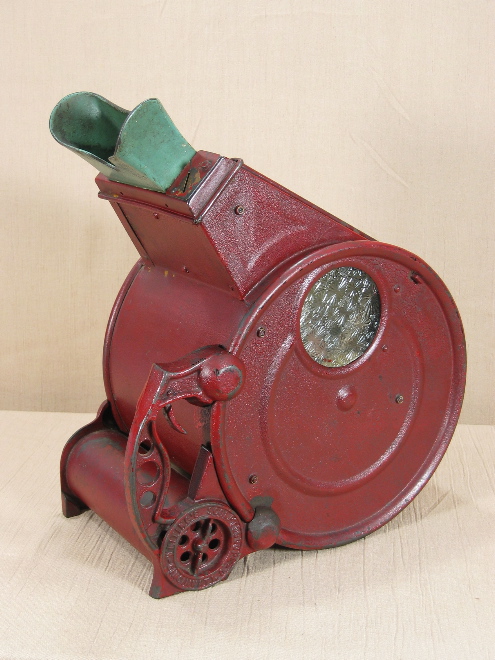 Whiting's Sculptoscope., Cincinnati, OH, c. early 1900's, 14 1/2". I don't know much about this machine. I was smitten by it on ebay and was the winning bidder, but the purchase was emotional rather than informed. A friend told me later that this is a less common and more desirable model than most mutoscopes, so if I'm gonna have one than this is a good one to have. I hope he's right.
It's made of sheet metal and cast iron. Put a penny into the coin slot to the right of the eyeshades and then start pulling the trigger. Each trigger-pull flips a new card to the front. Each card has what appears to be 2 duplicate pictures arranged horizontally, and when you gaze through the eyepiece the picture appears 3-dimensional. That must have been magic to a kid in 1910. You get about 15 flips for your penny, and that's a deal even by yesteryear's standards. There's no time limit, either, so if you were a kid back then you could stare at a picture until it got dark or until the kid in line behind you started kicking you, whichever came first.
Each side and the top have panes of patterned glass that allow light through to illuminate the card yet very effectively block the view to the cards. No freebies on this one; you gotta give up your penny to get the peaks.
Embossed on the perimeter of the circle below the trigger is the following: WHITING'S SCULPTOSCOPE, CINNCINATI, O. I couldn't find a patent date, but I'm sure this is from the early 1900's.
The example pictured above is 100% original.
___________________________________________________________________________________________
___________________________________________________________________________________________
©Small Vintage Vending 2003-2009