___________________________________________________________________________________________
William Michael Peanut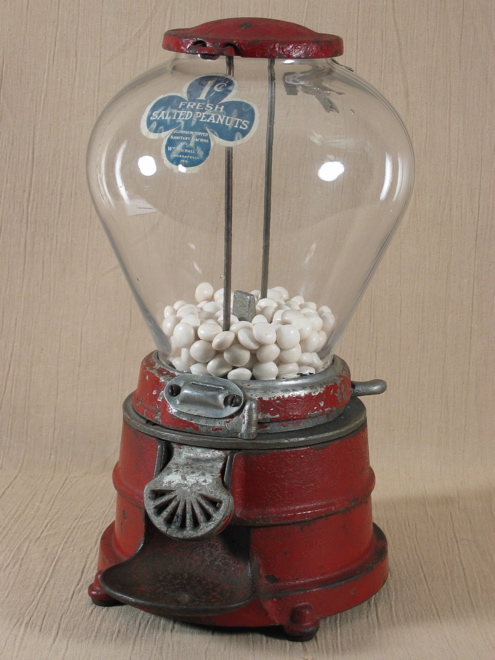 National Novelty Co., c. early 1900's, 14 1/2". This model has no tag as does the William Michael Gum, and it's listed differently in 2 places in Silent Salesman Too. One listing is on page 92, there as a William Michael Peanut circa 1930's with a note that it was probably made by National. The other listing is on page 102, there as a National Novelty Co. peanut vendor circa 1910.
So was this made by William Michael in the 1930's or by National starting in 1910? I don't know, but collectors call it a William Michael Peanut so I will, too. If you call it a "National" then most collectors will think of a National gumball machine, not the machine pictured above.
Whatever the model's history, it's a neat machine. Most of it is cast iron, but the topmost section of the body is aluminum. The globe pictured above is correct for this machine, and I don't believe a round globe is. A lot of these are found without the baseplate; I don't know why this model is so prone to that defect, but it's so common that when I see one with its baseplate I'm surprised. I've seen a couple of these large tapered globes with an original decal, but that's quite uncommon---most are found bare.
The example pictured above is 100% original.
___________________________________________________________________________________________
___________________________________________________________________________________________
©Small Vintage Vending 2003-2009