___________________________________________________________________________________________
Coin Gum / Yu-Chu Forex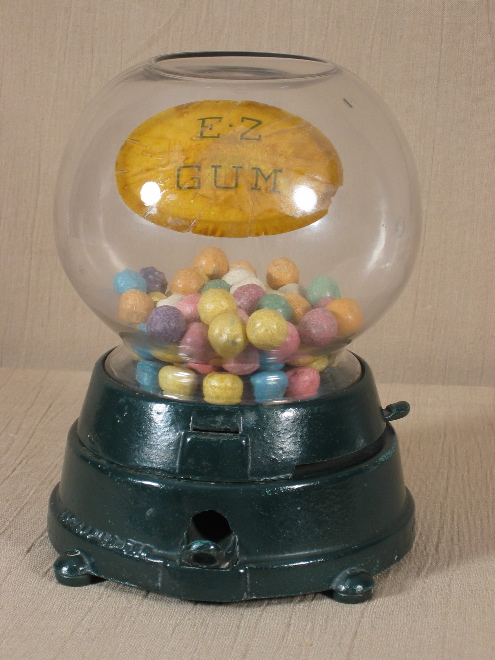 Yu-Chu Co., c. early 1920's (est.), 9 1/4". I'm not sure Bill Enes ever settled on the origin of this machine. It's listed as "Yu-Chu Forex" under the manufacturer "Coin Gum Mfg. Co." in Silent Salesmen Too. However, I got this at the Stan Harris auction in 1995, and it was described in that auction's catalog as having been made by Yu-Chu. This is inconsistent with a manufacturer of Coin Gum Mfg. Co., and since Bill Enes wrote the descriptions for the catalog it contradicts his opinion in Silent Salesmen Too. Since the catalog was written after Silent Salesmen Too was published, it looks like Bill's most recently-expressed opinion was that this is a Yu-Chu machine.
It's a cute, squat machine with a painted cast iron body and a lidless globe. The globe is held on by a hortizontal bar that screws in at two points from the underside and holds the globe pressed to the upper section of the base. The lower rim of the base, just to the left of the spout, is embossed "PAT. APP LD. FOR." This machine has always struck me as being very William Michael gum-like in its design, but I don't know of a relationship between the two companies that would suggest an intentionally common design.
I've seen only 2 of these in person, and don't know of any that I haven't seen live. The other one has the same "Forex" decal shown on the machine pictured in Silent Salesmen Too, and it may or may not be the same machine. Either way, this appears to be a rare model that's been (in my opinion) underappreciated in every price guide published.
The example pictured above is 100% original. I can't explain the "E-Z" decal, but it's been on the globe forever.
___________________________________________________________________________________________
___________________________________________________________________________________________
©Small Vintage Vending 2003-2009