___________________________________________________________________________________________
Ampco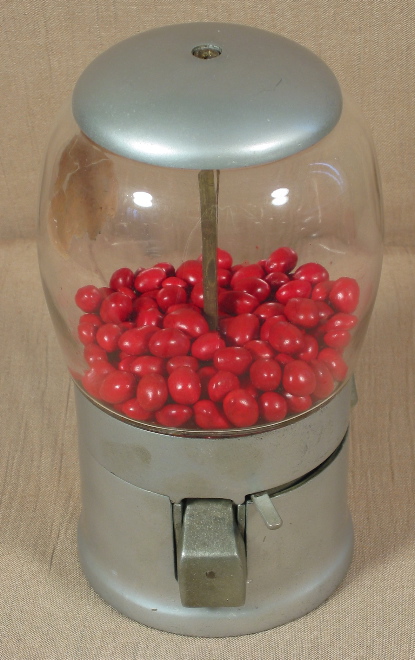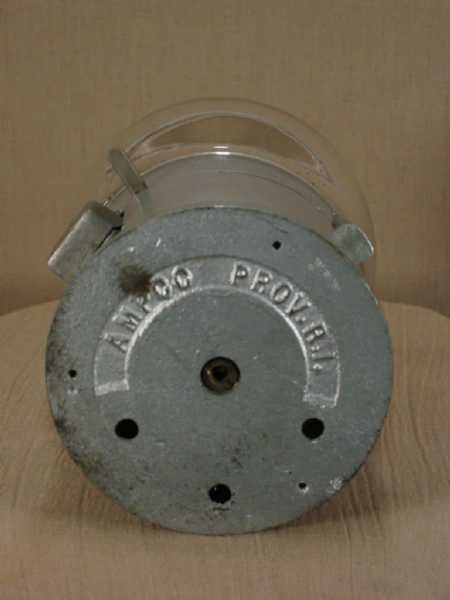 Ampco, Providence, RI, c. probably 1930s, 9". This is not listed in Silent Salesmen Too. To my knowledge this is the only example known, and it was found after Silent Salesmen Too was published. It's cast iron painted silver, and where a few specks of paint are missing it looks to me like there may be chrome under the paint.
I wrote about how I acquired this in an article for the COCA magazine. If you're interested in reading that, you can click here to download a pdf version of the text.
In spite of the "AMPCO. PROV.RI" stamped into the bottom, this machine screams "Vendex." The body style, gate, handle, and lock are all of the Vendex style. Could Vendex have made this specifically for Ampco to distribute? And what was "Ampco" anyway? No company is currently listed in Providence under that name, but it's been 60 to 70 years since this was made.
One last thing I find interesting about this machine. If you consider the gate to be facing "south" when viewed from above, then the decal is facing northwest. The globe is notched on the bottom to fit a corresponding notch on the base, which prevents the globe from rotating on the base. Therefore, the decal placement is either a heinous mistake, an act of rebellion by a disgruntled employee, or was actually intended to face the back of the machine. Your guess is as good as mine.
___________________________________________________________________________________________
___________________________________________________________________________________________
©Small Vintage Vending 2003-2009