___________________________________________________________________________________________
Bluebird Jawbreaker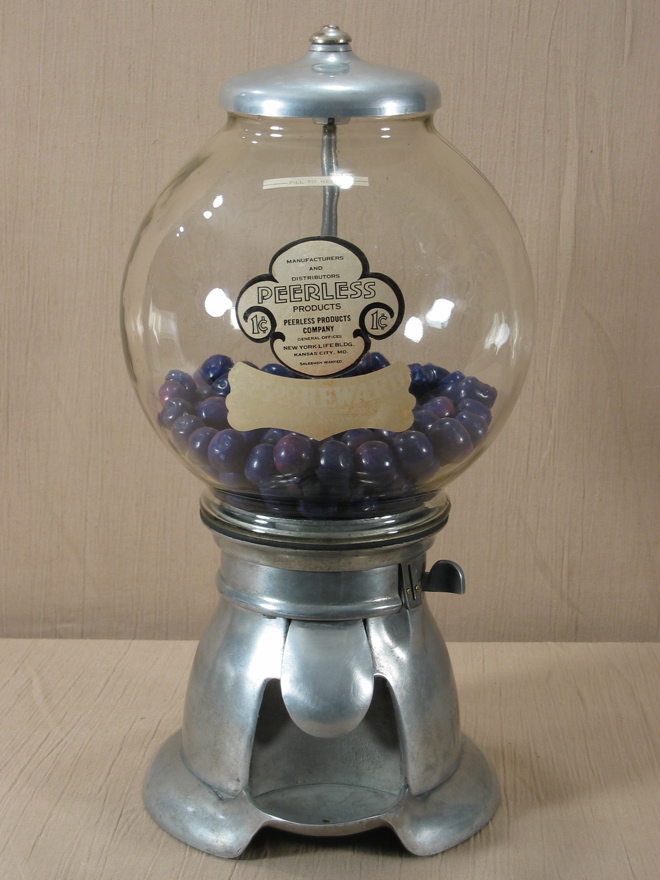 Bluebird Products Co., Kansas City, MO, c. 1915, 16 1/2". This is a Bluebird Bulk Vendor except for two differences: 1) The gate is plain and shaped differently, and 2) The Jawbreaker's vending wheel is adapted to deliver large round jawbreakers or gumballs. You can see the vending wheel here and here. Despite the minor differences, this is a much harder machine to find than the bulk vendor.
This example is 100% original. I bought it at the Chicagoland show in 2006 and almost passed because the price was higher than I thought it should be. Then I started thinking about it; I've seen so few of these over the years and this one is perfect except for some fade to the decals, and after awhile I was able to rationalize the price and bought it. I'm very good at rationalizing. I don't regret buying it; since then I've earned more money but I've not seen more than a couple of these available. In fact, I can't remember (as of December 2015) having seen any available, but I'm being conservative with my statement since I may possibly perhaps have maybe seen one or 2 and am not recalling it right now as I type. But I think the number is closer to zero than it is to 2, and may in fact be exactly zero.
One side note: The gumballs shown in the Jawbreaker above were in the Bluebird Bulk Vendor pictured in the link when I bought it. They're old and awesome and there was no way I was gonna throw 'em away, but they're not right for a bulk vendor and I didn't have another machine that would take such large balls. I'd had them packed away for about 10 years before I bought the Jawbreaker, but I'm sure glad I kept 'em all that time. They're perfect for this machine.
___________________________________________________________________________________________
___________________________________________________________________________________________
©Small Vintage Vending 2009