___________________________________________________________________________________________
Columbus Model 21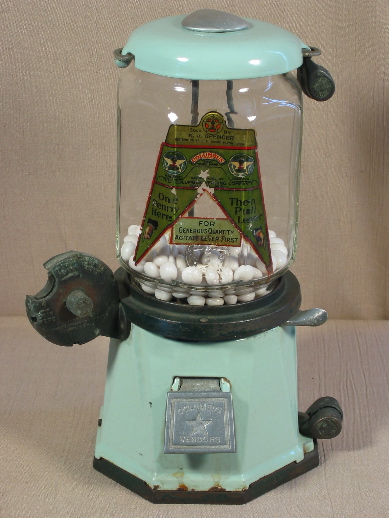 Columbus Vending Company, Columbus, OH, c. 1934, 13". This is a small peanut vendor meant to be used on bars and small store-top counters. It's made of cast iron, and almost all I've seen are finished in green porcelain. It has an octagonal base, and the correct globes are the large octagonal globe (#4) and the small octagonal globe (#3). Of these, the #3 globe is considered more desireable.
This model was usually equipped with an octagonal cast iron baseplate, a plain vertical coin slot and cover, and the same large-nippled lid that came with other Columbus of this era (such as the Model M), but was also available dolled up with any or all of the following features:
A working lamp. According the picture in Silent Salesmen Too, the lamp fixture attached to the lid and didn't extend in any way into the rest of the machine. This required a "lampshade lid," an example of which is on the machine pictured above. Under the aluminum cover is a hole in the center of the lid, through which a thin lamp pole could be routed and secured when the aluminum cover is removed. These lids are hard to find but aren't rare. I've seen several Columbus 21's with lamp fixtures, but I don't know if they were original or if they were created later from a common lamp and a lampshade lid.

A base from which protruded 2 pentagonal ashtrays. There were 2 styles of the "ashtray base," one that placed the ashtrays at the 9 and 3 o'clock positions and a later one that placed them at the 10 and 2 o'clock positions and therefore took up a little less counter space. The second style seems to be harder to find. I know of only one original set of ashtrays, although the base has been recast, so be careful.

A Pac-Man-type slug rejector. Although the body of this slug rejector is relatively common, the Model 21 needs a slug rejector with a vertical mount rather than the horizontal mount seen on almost all other Pac-Man-type slug rejectors. The example above has one of these slug rejectors. I don't know that this rejector is technically "rare," but it's quite hard to find; I've seen only one or 2 in a dozen years.
The Model 21 is a nice, compact machine that collectors seems to appreciate. Even a plain-Jane model in good condition is very attractive and desirable, and when you add any of the above accoutrements then demand can increase considerably.

The example above is 100% original.

Many thanks to Roy Leatherberry for his critical review of this page.

___________________________________________________________________________________________

___________________________________________________________________________________________

©Small Vintage Vending 2003-2009