___________________________________________________________________________________________
National Match Safe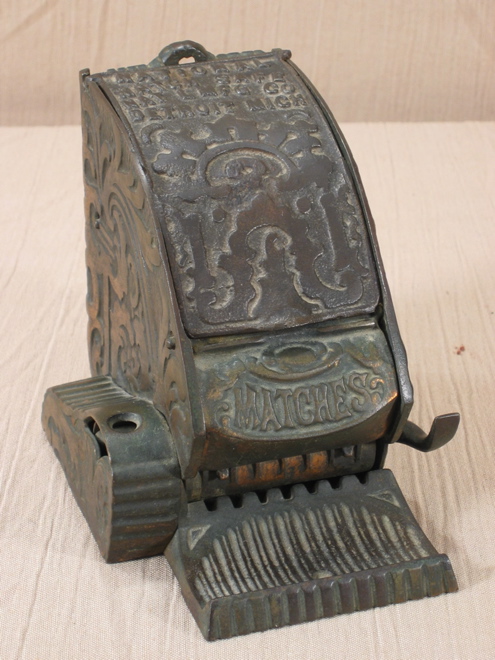 National Mfg. Co., Detroit, Mich., c. very early 1900's, 5 1/4". This is a small cast iron match dispenser with ornate castings reminiscent of the Northwestern Sellem, the Specialty No. 1 Advertiser, and the Specialty No. 2 Perfection match vendors. You can see pictures of the sides here and here. It's not coin-operated, but I've categorized it with the other match vendors 'cause where else am I gonna put it? A large central compartment holds the matches, and when you push the lever down on the right side, it dispenses a match from the front and moves a blade across the hole on the protrusion on the left side. That cuts the end of the cigar, if you were so lucky to have one and knew to put it there before you pushed the lever.
I bought this at the Chicagoland show around 2008, and didn't realize until 2016 that I'd never added it to this website. Sorry. I saw it in a booth on Friday and was immediately smitten with it. It's peripherally related to what I collect, but it's not in my mainstream. I'd never recalled seeing one before, but since it's not in my mainstream that didn't mean much. I talked to the dealer for awhile, who told me what it was and gave me some historical context, but it cost too much for a spur-of-the-moment purchase. Plus, not being familiar with it I didn't know if the price was fair. I told the dealer that I needed to chew on it, thanked him, and walked away. For the next 20 minutes I walked around, but kept dwelling on it, and every time I passed the booth I hoped it would still be there. I also got pricing advice from a friend whose opinion I trust, who told me the price was fair. I've learned over the years that whenever I can't get a piece off my mind, and I'm terrified that on my next pass it'll be gone, that I should just buy the damn thing and put myself out of my misery. So that's what I did---I decided to buy it and headed toward the booth. As I turned the corner I saw a guy standing at the booth, holding the match safe, and talking to the dealer. I panicked and rushed toward the guy, screaming "no, it's mine!," and shoved him away while grabbing the match safe from his hand! That's what I did in my mind, but in reality my heart sunk and I stopped and feigned interest in things in a nearby booth while sneaking sneaky glances at the interloper to see if he was gonna buy my match safe. After about an hour---or maybe it was 3 minutes, I wasn't checking my watch---he walked away without the match safe! I already knew the dealer's best price, so---relievedly---I high-tailed it over to the booth and bought it. After I did, I told the dealer this story and he chuckled and said that the guy who'd just left really liked it but balked at the price, and had said he'd have to think about it and might be back. As the dealer finished telling me this, the other guy---who I know from previous shows, but not well---walked over to the booth, saw me holding the match safe, and asked if I'd bought it. I said yes, and he complimented me on it, telling me it was a great piece, and saying he'd come back to look at it again and would probably have bought it, but would now stop thinking about it. I'd been just in time. I've since seen other examples of this model, in similar condition and typically priced at about what I paid. I'd have had other chances but at the time I didn't know it, and besides, who wants to wait if they don't have to?
This example is 100% original, as I imagine (but don't know for sure) most are.
___________________________________________________________________________________________
___________________________________________________________________________________________
©Small Vintage Vending 2016