___________________________________________________________________________________________
Northwestern Palmolive Individual Soap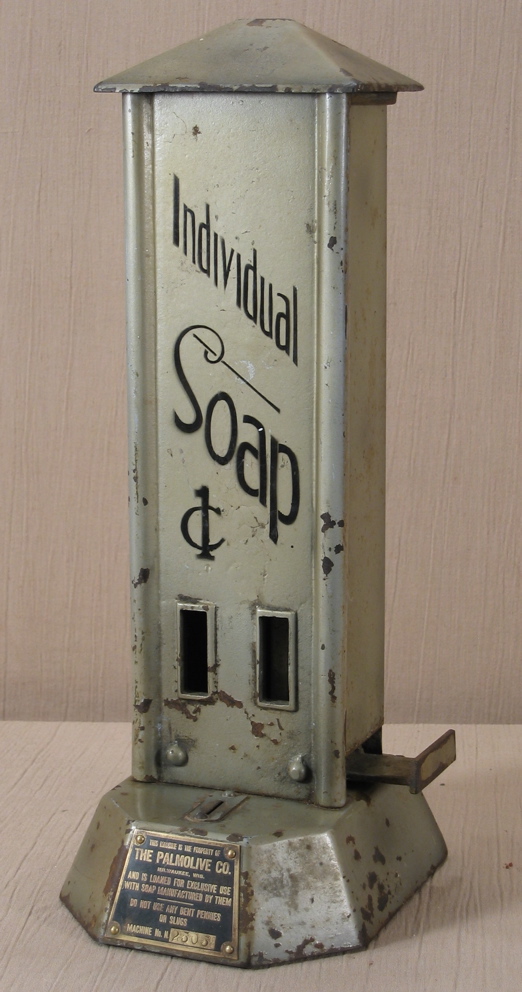 Northwestern Corporation, Morris, IL, c. 1914, 15 1/2". This is a Northwestern Art Granite match vendor, except that the vending slide is sized for small individual bars of soap. I don't know where there was a big market for these, and maybe there wasn't since this is the only Art Granite I've ever seen configured like this. A soap-ready Art Granite is pictured on page 264 of Silent Salesmen Too, and looks identical to the one above except for different graphics.
I was smitten by overall look of this machine, including the simple cursive graphics which is not a decal but is painted directly onto the front. I saw this in the Chicagoland parking lot in 2006 and balked at the price, but the more I looked at it the more I liked it. I had about a minute to rationalize the purchase since another guy was staring at it with lust-filled eyes, and another guy was behind him nonchalantly eyeing it while pretending to look at other stuff nearby. I figured what the hell, I don't come to Chicago to kick tires, so I bought it figuring I could sell it to the lusty-eyed guy behind me if I changed my mind. I didn't change my mind.
I once saw an example of the other Palmolive soap vendor pictured on Silent Salesmen Too page 264, but like a fool passed because I thought it was overpriced. I paid $100 more for the one above about 3 years after passing on the first one, so my initial mistake cost me---but I like the one above better. I won't make the same mistake again.
The example above is 100% original.
___________________________________________________________________________________________
___________________________________________________________________________________________
©Small Vintage Vending 2003-2009