___________________________________________________________________________________________
Northwestern Morris Match Vendor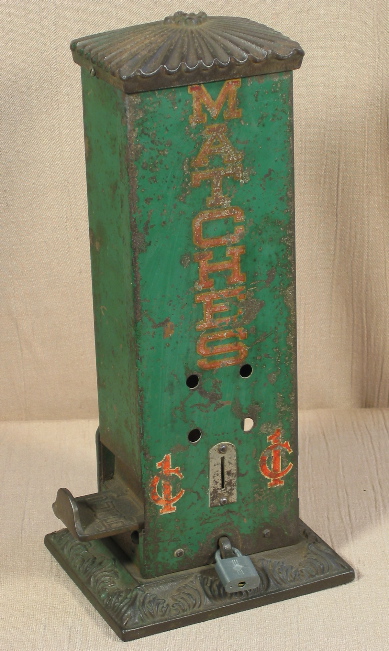 Northwestern Corporation, Morris, IL, c. 1930s (I think), xx xx/xx". This machine has always intrigued me because of its contrasting styles. The body is plain, nondescript sheet metal, yet the base and lid are ornate cast iron. Is it plain or is it fancy---or both or neither? Northwestern thought of the Morris as an economy model, yet it has the same mechanism and lid as the fancy, high-end Sellem. This was available only as a 1 cent machine.
This model also came with advertising holders on the front, into which vendors could place an ad. The theory was that a person buying matches was a captive audience for at least a few seconds, so why not direct the customer's eyes to something useful. I think the advertising models more interesting than the one pictured above, and collectors must agree since the advertising versions tend to sell for more than the stenciled versions.
This example is 100% original.
___________________________________________________________________________________________
___________________________________________________________________________________________
©Small Vintage Vending 2003-2009