___________________________________________________________________________________________
Whiting's Sculptoscope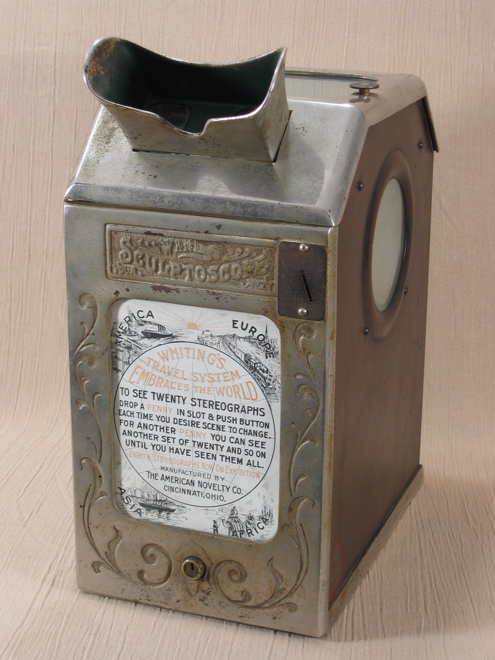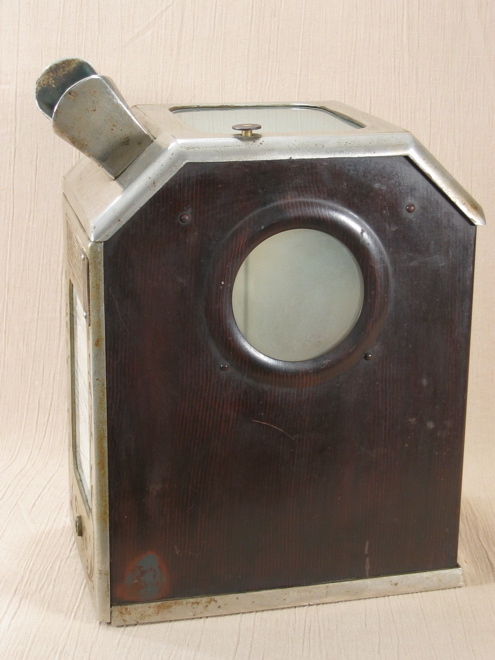 The American Novelty Co., Cincinnati, OH, c. early 1900's, 14 1/2". Like the later Whiting's Sculptoscope, I don't know much about this machine. I was at a friend's house and he was selling a bunch of machines, and this was among them. I'd never seen one before, it was different from what I typically collect, and I loved its look and condition. The front plate beckoned me, and I was powerless to resist.
The sides and back are sheet metal painted with a faux wood-grain finish, and the front is nickel-plated cast iron. Each side and the top have panes of frosted glass that let light in to illuminate the card, but block freeloaders from seeing the cards.
The machine pictured above is 100% original and has a great label on the inside of the front door, which has a list of spare parts and their prices, and the purchase date and serial number of this specific machine. That, the graphics on the front plate, and the perfect patina all around---but especially on the nickeled finishes---make this an exceptional example of this model.
___________________________________________________________________________________________
___________________________________________________________________________________________
©Small Vintage Vending 2013