___________________________________________________________________________________________
Bluebird Gum 1-2-3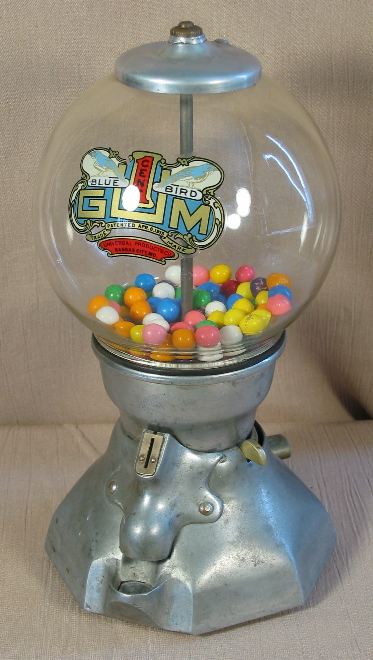 Bluebird Products Co., Kansas City, MO, c. 1918, 14". There's another machine that Silent Salesmen Too calls a "Bluebird Gumball," and I'm always getting this one and that one confused. Not the machines themselves, but the nomenclature. This one has an octagonal base and a 1-2-3 mechanism, which you can discern from the deep midsection needed for 3 stacked vending wheels. The base is cast aluminum and the lid is relatively thin stamped aluminum. It vended 1, 2, or 3 gumballs for a penny, depending on how lucky you were. As with all of Bluebird's 1-2-3 machines, the vending wheels are often cracked and not working, so check them out before you buy one of these.
The example shown above has a medium globe, which is correct for the machine but is lots harder to find than the small and large Bluebird globes. Find one with an original decal and it's better than gold.
This example is 100% original except for the decal. It's also correct with the marquee sitting atop the Bluebird 1-2-3 pictured on this site.
___________________________________________________________________________________________
UPDATE 12/23/2015: I no longer own this machine. I had it for years, the last 3 or 4 of which it was packed away in a box while I kept my eyes open for a medium globe with an original decal. It was the only thing keeping this machine from being perfect.
Before the November 2015 Chicagoland show a friend sent me a "wish list" of machines he'd be looking for at the show, and this model was on it. With monthly tuition payments a part of my existence at the time, I thought "what the hell" and decided to take this to the show and sell it to him if he wanted it. I was tired of waiting for that elusive medium globe and decal. Well, he did want it, and bought it the Thursday night before the show.
The next morning in the parking lot I came across a Universal Products with a medium globe with an original Bluebird decal, which is what I'd been waiting for years to find for this machine. After many years of patience, I'd sold it 12 hours too soon.
___________________________________________________________________________________________
___________________________________________________________________________________________
©Small Vintage Vending 2015