___________________________________________________________________________________________
Bluebird Gumball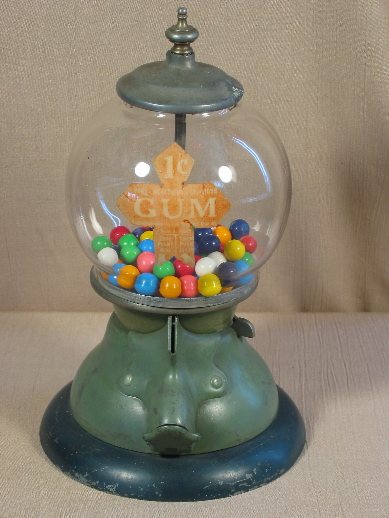 Bluebird Products Co., Kansas City, MO, c. 1918, 12" (without the finial). There's another machine that Silent Salesmen Too calls a "Bluebird Gum," and I'm always getting this one and that one confused. This one vends one gumball for a penny, while that one is a 1-2-3 machine that gives 1, 2, or 3 gumballs for a penny depending on where in the cycle the vending wheels are when you feed it your penny. This one is similar to a Bluebird Universal Products but has a trap door at the end of the gumball spout. The gumball stopped there until the customer released it by pulling the door downward. The door is spring-loaded, and pops back into place when released.
I bought this on ebay in about 2006, and thought from the pictures that the body and lid had the great gray patina that aluminum gets when it's old and hasn't been degraded by buffing. When I got it I saw that the gray is actually old gray paint. Most of these machines are bare aluminum, so the paint and 2-tone look makes this more appealing to me.
Then there's the finial. I've never seen one like it, and for all I know it's an old ornamental lampshade nut rather than a gumball machine part. Based on the machine's overall condition, I think it's been with this machine for a long time, but that doesn't mean it's original. I don't know if it is or isn't, but the more I looked at that little piece the more I liked it, so right or wrong, it's staying.
This is a hard model to find. I saw a few early in my collecting career and then didn't see one for many years after that. Then I saw this one on ebay, bought it for Stupid Money, and then two others appeared right after that, no doubt pulled out of hiding by the selling price of this one. Then, they disappeared again for awhile. I've seen a few for sale since then, but only a few.
This example is 100% original.
___________________________________________________________________________________________
___________________________________________________________________________________________
©Small Vintage Vending 2009