___________________________________________________________________________________________
Evernice Duplex, short version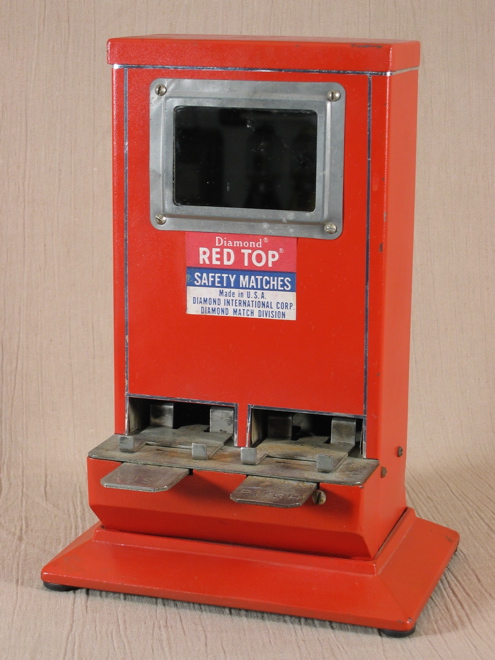 Griswold Mfg. Co., c. 1926, 12". When I went to write this description I checked Silent Salesmen Too to see what it had to say about this model, and only then did I find out that it was made by Griswold. I hadn't expected that, although once I knew it I could see similarities between this and Griswold's Shorts Chewing Gum and Red Star. I can't articulate it, but the feel of the different models is similar---they're all attractive, but there's a less-polished, slightly industrial aspect to them compared to most vending models by most other manufacturers. That doesn't hold for Griswold's Evernice or another unnamed match vendor, with their more-polished finishes and porcelainized bases. The Evernice and unnnamed match vendor strike me as later models, so they may be the products of a different design team.
The Duplex pictured in Silent Salesmen Too is 16 inches tall, but this is a shorter, foot-tall version that I'd never seen before I bought it. I think it's the cuter of the 2 versions. It's a 2-column machine and is made of sheet metal.
This example is restored. I bought it this way and don't know if this is the original color. I no longer own it.
___________________________________________________________________________________________
___________________________________________________________________________________________
©Small Vintage Vending 2009