___________________________________________________________________________________________
Griswold Red Star Match Vendor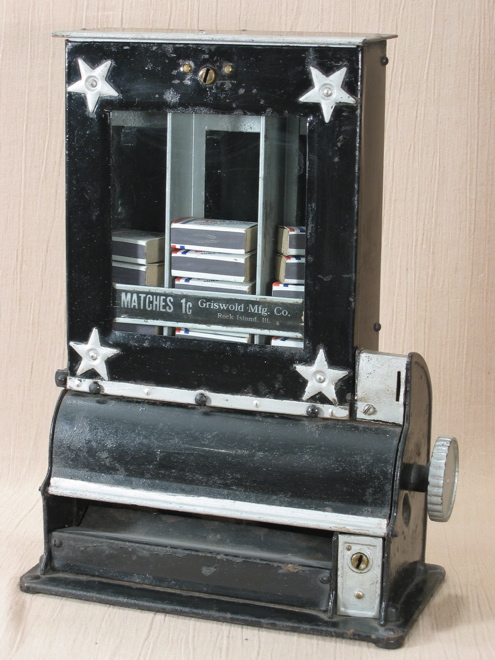 Griswold Mfg. Co., Rock Island, IL, c. 1910, 14 1/2". This is a 3-column vendor constructed of sheet metal. It's a relatively lightweight machine, and doesn't have the 'heft factor' of other Griswolds, even other (mostly) sheet metal Griswolds like the Evernice Duplex match vendor and Shorts Chewing Gum vendors. Still, it's a sturdy design of solid construction.
I had the chance to buy one of these in California in the mid-1990's, but shied away because I thought the price was too high. I then went years without seeing another one until a 2002 auction in Las Vegas, in which the specific machine pictured in the book went for something unreal. Not long after than I had the chance to buy one for less than the Vegas price but more than the California price. By that time I'd become more motivated to get one since I liked the model and had seen so few, and the price seemed fair so I bought it. It's a tough model to find. It's not rare in the true sense of the word, but it's not common.
The example pictured above is 100% original except for the paint. The machine looks to have been repainted eons ago, and the silver is part of that ancient repaint and is not the original nickel. It has a neat "Griswold" decal on the front panel.
___________________________________________________________________________________________
___________________________________________________________________________________________
©Small Vintage Vending 2009